Hello Robert,
I was thinking about the "checkbox" module to filter or emit data in automation. Let me explain you the requirement in short.
Suppose we've got a trigger for an application and that trigger has numbers of fields (380+ fields) for a single record and out of those 20-30 fields are useful (which need to be a map in action assembly). Application API allows us to mention only fields which are required but I don't want to do that because it would make assembly private. Here what I want:
I want to get all those fields to get through the 'checkbox' module and all the fields will appear in automation while configuring the trigger. Now I have the ability to check/uncheck those fields which need to be pass in API query. Something like that: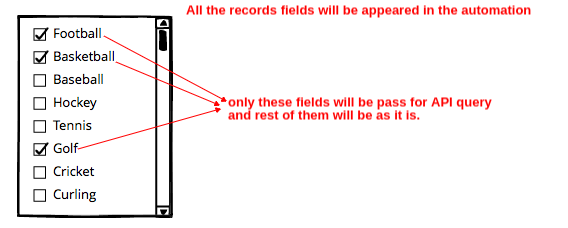 Let me know if I'm asking for right things or if it's possible by any of the modules or assembly to improve the performance of the connector.
Thank you